Digital Marketing
Pink Sky Studios propels you forward with digital marketing that engages your audience, generates traffic and boosts sales.
Digital Marketing that Captures, Engages & Converts
Reach your target market where they are — online! Pink Sky Studios will target your audience and create engaging, sharable, branded content to connect with clients, customers and prospects in their social feeds, inboxes and searches.
What is Digital Marketing?
Digital marketing is a form of advertising that utilizes the internet to promote your business, products and services through digital media platforms such as social media, email marketing, content marketing and internet searches.
As buyers expect faster access to products and services than ever before, digital marketing for your business is vital. Reach them on their computers and mobile devices with a digital marketing strategy for your business!
Every day, 81% of adults in the U.S. are online*. Whether texting, emailing, researching, shopping or scrolling through social media, they spend an average of 6-1/2 hours a day doing it**. With this in mind, opportunities abound for businesses with a digital marketing strategy!
Digital marketing provides a direct line of communication to a highly targeted audience while building brand awareness and establishing trust. It's cost-effective, allowing you to reach a vast amount of potential customers for less cost than traditional marketing methods; and it's measurable, providing in-depth analysis on impressions, shares, views, clicks and more.
*Pew Research, 2019; **Bondcap 2019
Digital Marketing Strategy
Stand out from the competition and reach your target audience with Pink Sky Studios' strategic digital marketing services!
A Clear Plan of Action
Establishing a strategy for your digital marketing efforts is critical for success. Your digital marketing strategy is a comprehensive plan that guides you through a series of actions that support and achieve your business goals.
Through the use of various tactics and online channels you can connect, engage and interact with customers where they are every day throughout the digital landscape.
Coordinated, Performance-Driven Strategy
By including a variety of digital marketing tactics such as content posting, targeted advertising and blogging you create a cohesive experience for your audience across the digital landscape. Through multiple channels such as social media, email marketing and especially your website, and by utilizing innovative methods of targeting, tracking and reporting, your business is able to nurture buyers before and after they become customers.
Pink Sky Studios will create a customized digital marketing strategy for your business that connects with your target market, increases brand awareness and propels your business forward.
Elements of Digital Strategy
The first step in building a successful digital marketing campaign is developing a strong strategy. This encompasses:
Knowing Your Brand Strategy: define what you have to offer, your mission and goals, your strengths, opportunities, weaknesses and threats

Defining Your Brand Identity: create an identity that speaks with a consistent unified voice, builds recognition and communicates value

Developing Your Website: create a keyword-rich, search-engine-optimized visual website that provides an engaging user experience

Building Your Customer Personas: describe your ideal customer, what motivates them to choose your business, products/services

Identifying Your Digital Goals: set specific, measurable, realistic short-term and long-term objectives for growth

Determining Your Channels: consider who you are targeting and where they are in the digital landscape

Creating Social Media Accounts

:

determine which platforms align with your goals and provide value for your business

Setting Your Budgets: determine comfortable spending limits per campaign and digital channel

Creating Your Content Calendar: determine dates and times to post, advertise and blast on each channel

Launch Your Campaigns: launch campaigns across chosen channels with custom-tailored messages for each

Track and Manage: monitor the performance of each campaign to include impressions, reach, clicks, click-through rates and conversions

Reviewing and Revising: analyze metrics regularly to know what is working and what needs to be improved
Create a Conversation Around Your Brand
Affordable and highly targeted, social media has transformed the way businesses and customers communicate. It allows you to reach new prospects, engage with existing customers and build valuable connections. Social media humanizes your brand through direct one-on-one interaction that nurtures relationships and builds trust. Ultimately, social media can position you as an industry leader, influence purchasing decisions and drive sales.
Social media marketing is vital for business growth. Pink Sky Studios will create a concise social media strategy for your business and post engaging customized platform content that connects with your target market and sets you apart from competitors.
Email Marketing Campaigns
Pink Sky Studios creates email campaigns that allow you to communicate easily and affordably and build strong lasting relationships.
The Power of Email Marketing
Email marketing provides a valuable opportunity to keep the lines of communication open between your business and your customers, cultivate relationships and stay top-of-mind. It's fast, efficient and cost-effective. With an average return on investment (ROI) of $42 for every dollar spent*, email marketing is very good for business!
*Direct Marketing Association, 2019
Build Your Brand with Email Marketing
Email marketing is an essential part of your brand's digital marketing strategy. Pink Sky Studios' makes it easy for you with customized, branded email marketing campaigns that provide subscribers with engaging content, positions you as a valuable resource and drives revenue.
Reach out to prospects and retain existing customers by incorporating email marketing into your digital marketing strategy.
Whether you're looking to engage your customers, build your audience, drive sales or increase your brand awareness, Pink Sky Studios has the email marketing expertise to help you succeed.
The Process of Email Marketing:
What is an Email Service Provider (ESP)?
Your regular email account, such as Gmail or Outlook, is not designed for email marketing and can undermine your efforts. Messages blasted through your regular email account can be labeled as spam and never arrive to the recipient.
In order to blast out your email marketing campaigns, you need an Email Service Provider (ESP). An ESP is a company that supplies the platform required for users to create and launch email marketing campaigns to a list of subscribers. Its tools assist in creating templates and managing subscriber lists, providing statistics and reporting features, as well as keeping you in legal compliance.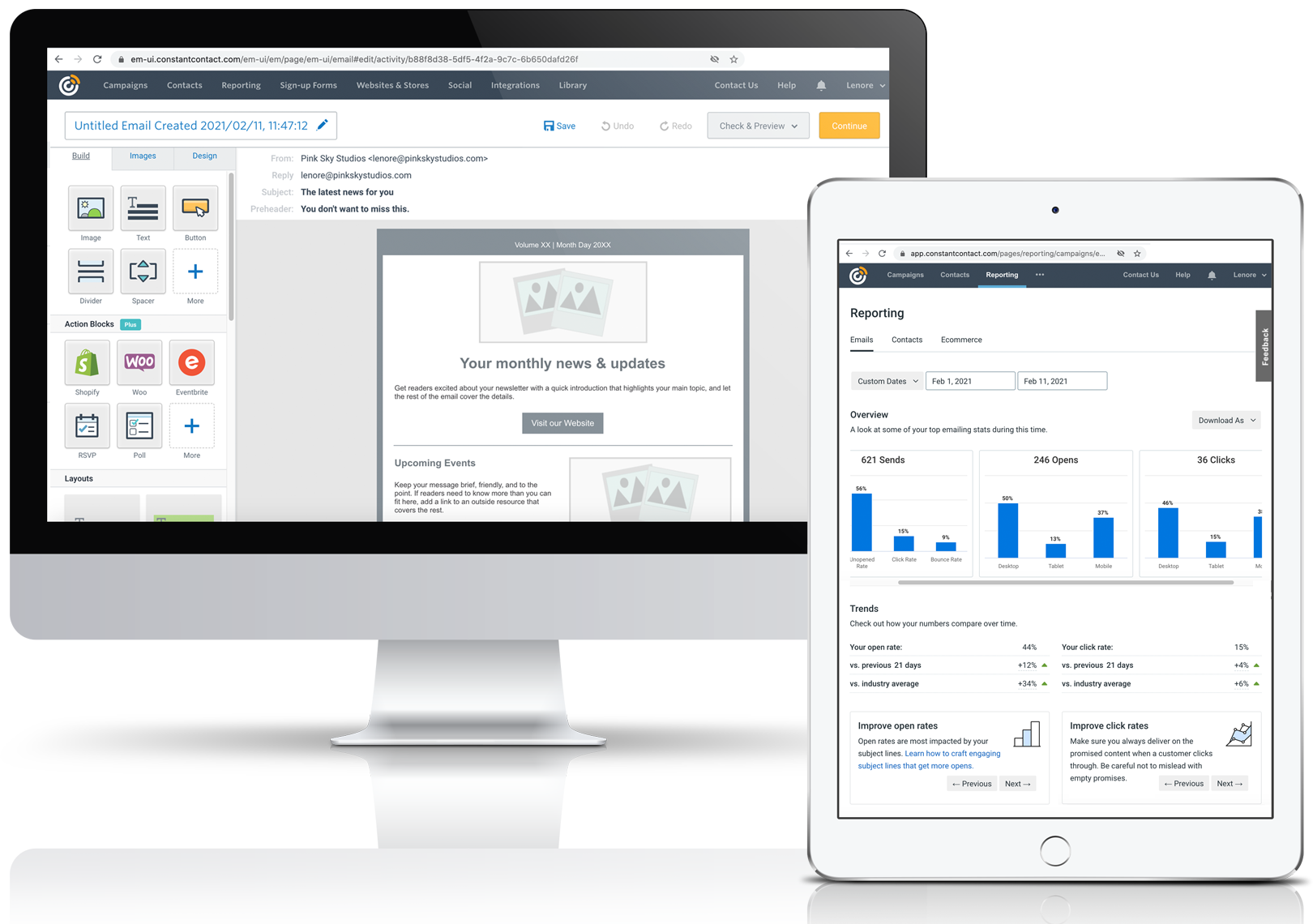 Pink Sky Recommends Constant Contact
Pink Sky Studios has extensive experience creating effective email marketing communications, promotions and newsletters using various ESPs. Our provider of choice is Constant Contact.
Pink Sky Studios partners with Constant Contact to deliver effective, affordable, professional email marketing campaigns. Constant Contact has a rich selection of advanced features including email automation, contact list management, and real-time email tracking tools to let you see who's opening, clicking and sharing your emails.
Increase brand awareness efficiently, effectively and affordably with email marketing from Pink Sky Studios and Constant Contact.
Disclosure: As a Constant Contact Solution Provider, we may receive a commission for any customers that we refer. Our recommendation is based on our experience with Constant Contact, as well as the needs of our clients. You are free to use the ESP of your choice.
You Have Options…
Though our preferred email marketing platform is Constant Contact, we have experience working with alternative permission-based email marketing platforms such as Mad Mimi and MailChimp. All have similar features such as database storage and reporting functions. However, each platform offers a different level of functionality.
Whether you're already working with an ESP or you're starting from scratch, Pink Sky Studios is ready to create your email marketing campaigns utilizing the platform of your choice.
Content Marketing
Pink Sky Studios will high-quality content marketing that positions your business as a valuable resource.
What is Content Marketing?
Content marketing is the strategic method of creating and distributing valuable, high-quality content focused on reaching, engaging and connecting with a targeted audience.
Content marketing educates, informs and inspires. It is neither promotional nor about your brand, products or services. Content marketing is relevant to your audience and what they care about. It sends a clear message that you're attuned to their needs and ready to help to solve their problems.
Content Marketing Includes:
Articles

Blog Posts

Case Studies

E-Books

Email Newsletters

FAQs

Games

Giveaways

Guides

Illustrations

Infographics
Podcasts

White Papers

Photographs

Presentations

Resources

Social Media Posts

Surveys

Videos

Webinars

White Papers
Why Content Marketing?
Consistently distributing different types of helpful content to a targeted audience over different channels will increase brand awareness establish trust and position your business as a valuable resource when customers are ready to purchase. In fact, 82% of consumers feeling more positive about a company after reading custom content and 60% are inspired to seek out a product after reading content about it*.
*Demand Metric
Knowing Your Ideal Customer = Success
Consumers are more likely to buy from businesses with whom they have a relationship. The first step in cultivating this relationship is to understand your ideal customers. The better you know them, the easier it will be to build relationships.
By providing helpful information through content marketing, you show you value your customers and that they're a priority. This creates loyalty and positions your business as a worthy candidate when they need your products and services and are ready to buy.
Create Demand for Your Brand with Website Design, Brand Identity and Digital Marketing from Pink Sky Studios!